Short history of Char's Pomeranians


Char's Pomeranians started out as a dream, the dream of a young girl determined to make a positive influence in the breed she loved. No one could foresee how that dream would become a reality, touching so many hearts and breeding programs in suCH a relatively few years. Today, Char's Pomeranians, is a household name for most Pomeranian enthusiasts.
Char purchased her first Pomeranian in 1994 but did not decide to breed and show Poms until 1998. She has dedicated over a decade to the Pomeranian breed and that dedication is becoming quite apparent to those who follow the Char's Poms in and out of the show ring. Char has enjoyed breeding several champions, group winners, and more than a few Best In Show winning Pomeranians. A large number of the Char's Pomeranians proudly carry the Championship title and are quickly accumulating the Grand Championship titles as well. The American Pomeranian Club has consistently awarded Char with top breeder and top exhibitor awards since 2005, a prestigious recognition.
In the Char's Pomeranian breeding program, Char strives to breed happy, healthy Pomeranians in accordance with the standards of the American Pomeranian Club and the American Kennel Club. Making a difference is of utmost importance to Char and she enjoys a challenge so it isn't surprising that she took on the challenge of the parti-color. When Char finished her first parti-color champion, there were only 14 champion parti-colors. Now there are well over 100. Char is the current breeder and owner of the:
► Top winning parti-color in the world
► Youngest, fastest finishing parti-color
► First Grand Champion parti-color
► First parti-color to win dual championship titles
It is Char's goal to see parti-color Poms compete on an equal basis in the show rings all around the world. A goal that will, in all likelihood, be attained in the not too distant future.
Char's Poms consists of two completely separate breeding programs. One consists of Pomeranians that have no parti-color in their pedigree. These are orange, cream, sable, black, and black & tan. The other is for parti-colors and includes all of the above colors, as well as chocolate. Char enjoys the challenge of breeding quality Pomeranians in a variety of colors.
Char's Poms can currently be seen excelling in the show rings of Canada, Mexico, Honduras, Costa Rica, Panama, Brazil, Argentina, England, Scotland, Norway, Sweden, Finland, Portugal, Spain, France, Switzerland, The Netherlands, Belgium, Germany, Italy, CzeCH Republic, Poland, Denmark, Lithuania, Belarus, Hungary, Bulgaria, Slovenia, Latvia, Bulgaria, Russia, Turkey, Israel, Egypt, United Arab Emirates, South Africa, South Korea, Philippines, Hong Kong, Thailand, Japan, Singapore, Malaysia, Indonesia, China, Taiwan, Australia, Iceland.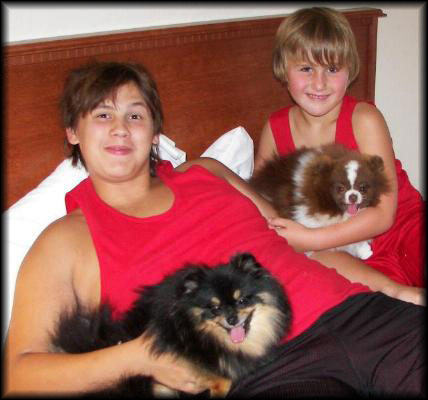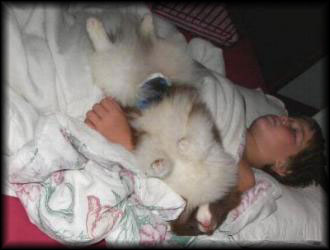 Other members of our family are, Dottie, the Bearded Collie and our two neutered cats - Sammy and Alvin. They all like to help socialize the puppies, preparing them to join a variety of families.

All our puppies are raised to believe they are the next STAR whether he or she is the STAR of your heart or the STAR of the ring, a STAR all the same.
Our boys are growing up. They are now 19 and 11.
Thankfully, they still enjoy going to the dog shows.
Most of all, they love lounging in the room with the
dogs and swimming in the pool. Our youngest son
has his special boy, Gizmo, and they have pulled
off a few Best of Breed wins together.
My ideal Pomeranian is sound in both mind and body, with a great personality, beautiful carriage with neck carried high, appealing type, and correct movement. I strive to consistently produce Pomeranians of this quality, Poms that will excel in the show ring as well as the home, happily warming any lap.